Fall is great in east Tennessee with all the trees showing their spectacular yellows, reds, and orange colors. The air is cooler and more crisp, the smell of wood smoke and burning leaves is in the air. It's also a perfect time for a little backpacking in the nearby Great Smoky Mountains National Park.
Park service photo from Bullhead Gap showing late October color and hoarfrost on the mountain in the background.
So this past weekend some of my fellow Realtors and a couple of other friends hiked into the backcountry along the Meig's Mountain trail to campsite # 20. It's about a 3 1/2 mile hike in from Elkmont, a popular front country campground.
Weather was perfect this past weekend; bright blue, clear fall skies, sunshine, and temperatures ranging from 40s at night into the mid 70s during the day.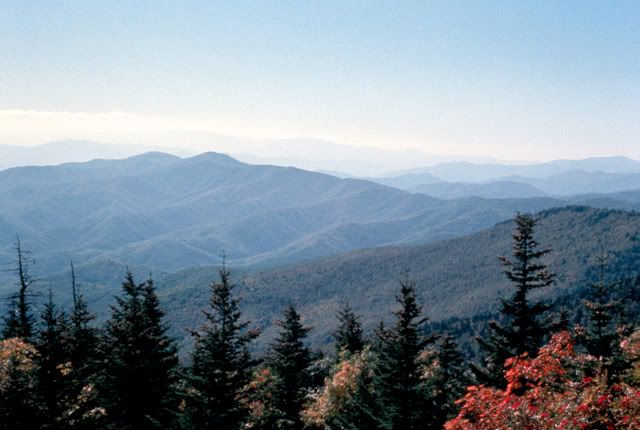 Three campers went in Friday but I came in on Saturday morning. They were already set up and had a nice campfire going.
This is one of the benefits to living near the Smoky Mountains. That horizontal blue object in the background is my hammock; I spent lots of time both Saturday and Sunday in it.

We had a big surprise around noon Saturday. We heard some voices coming down the trail and discovered it was the Smoky Mountain Llama treks bringing in a group on one of their outings.
It seemed to me the Llama trek folks were much smarter than we were because they had their trusty Llamas carrying their packs. 😉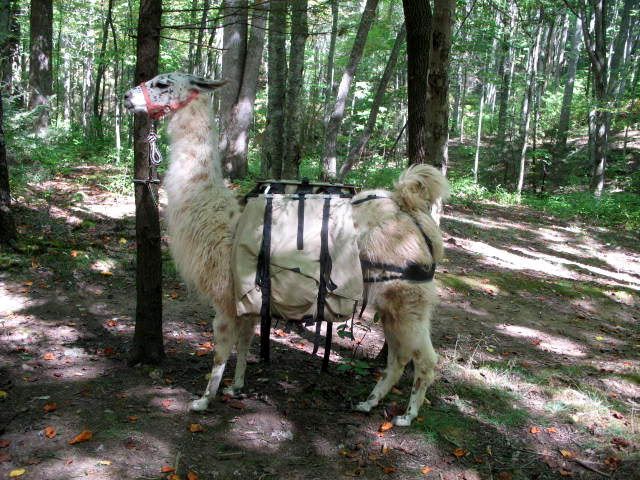 The trekkers unpacked at the adjacent campsite to us, set up their folding tables and chairs, and had a feast in the woods. They generously gave us their leftover shirimp cocktails, being good neighbors we took it.
In addition to the Llamas there was lots of native wildlife; we saw deer, heard lots of owls at night, and saw a coyote strolling down the trail beside our campsite. He seemed to be oblivious to our presence. He came back trough about 30 minutes later headed back up the trail. We whistled and hollered at him, he turned once to look but kept on at the same pace. Couldn't get a picture either time.
It was a great weekend for all, good to get away from computers and cell phones periodically and just do some serious relaxing and have fun.
www.KnoxvilleHomeCenter.com is a great place to find a new home if you would like to live in the Knoxville area of east Tennessee.